About / News Centre
Deputy Premier launches new state-of-the-art MRF in Cairns
October 18, 2021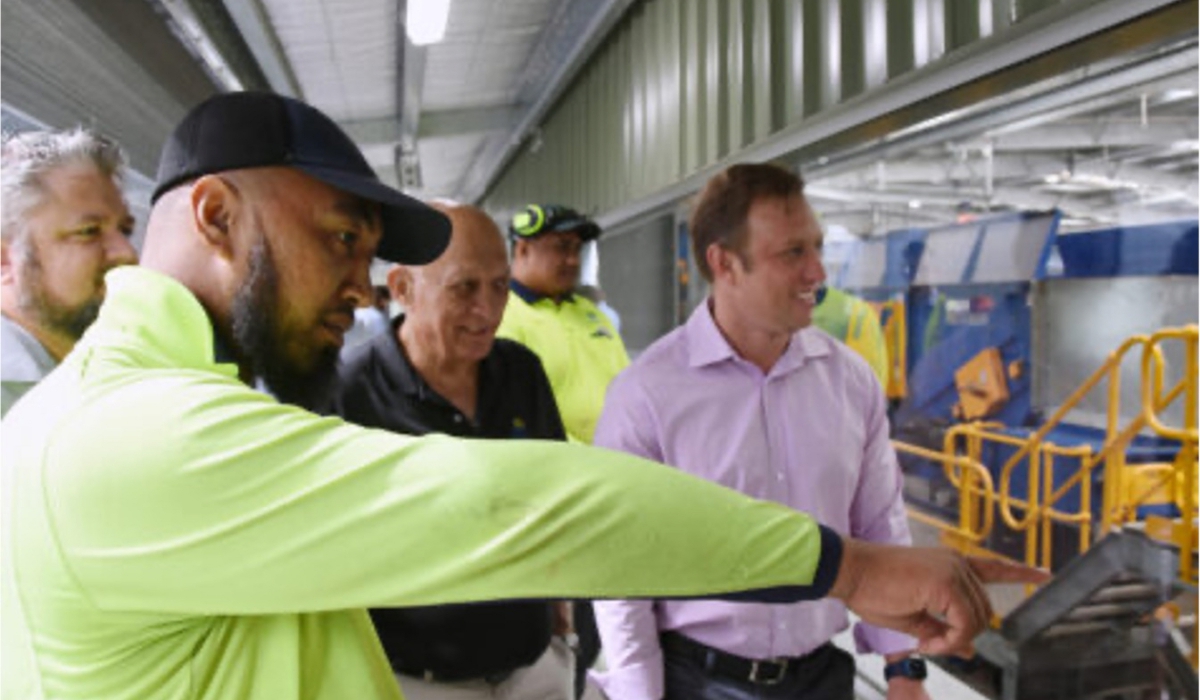 In May, Queensland Deputy Premier the Hon. Dr Steven Miles joined Re.Group Chairman the Hon. Robert Hill AC, Engineering Director Stuart Garbutt, and Board Member Neil Broekhuizen , along with Cairns Regional Council Mayor Cr. Bob Manning, at the Cairns Materials Recovery Facility at Portsmith to formally open the facility.
With the opening of the Cairns MRF, the Tropical Far North Region's recycling and recovery capacity has doubled. Designed and built by RDT, the Cairns MRF is the first of a new-breed of modern Australian recycling facilities designed to maximise the value of material on-shore, and end the reliance on export markets for low-quality materials. The facility will process at least 15,000 tonnes of household recyclables per year.
The Cairns MRF recovers paper and cardboard, metals and six grades of plastic, at leading quality standards with 98% purity levels. The facility also converts glass into quality sand products, for use in local civil and construction projects.
RDT sourced specialist processing equipment, including optical sorting units for paper and cardboard, from leading global equipment supplier Machinex, which is based in Canada. Despite the challenges presented by the COVID-19 pandemic, the project was delivered on time and on budget, while meeting the most stringent quality performance tests.
Re.Group Managing Director David Singh said the project was made possible thanks to the leadership of Cairns Regional Council, which had acted swiftly to set a new standard for regional recycling, and to the Queensland Government that provided funding support.
"The recycling industry has seen some challenges arise in recent years, but thanks to the innovative thinking of Cairns Regional Council and funding assistance from the Queensland Government, local government and private enterprise have been able to work together to improve recycling and create circular economies for the materials we use every day," said Mr Singh.
"The latest recycling technology allows us to improve sorting of materials, make better quality recycled products, and increase diversion from landfill, which in turn reduces emissions. We're also able to create products like glass sand which can be used in local roadworks and civil construction, creating end markets for recycled materials in the region."
The Cairns MRF also boasts the Rediscovery Centre – an education room with a bird's eye view of the plant and close-up visibility of equipment thanks to cameras in the machinery.
More than 400 children, students and community group members have visited the Rediscovery Centre since the MRF's commissioning in February. Cairns Regional Council Mayor Bob Manning said the education program at Cairns MRF was vital to improving recycling rates in the region.
"If we want to change household habits, the best place to start is through education, and particularly by arming younger members of the family with correct information on recycling practices," Cr Manning said.
Related Articles